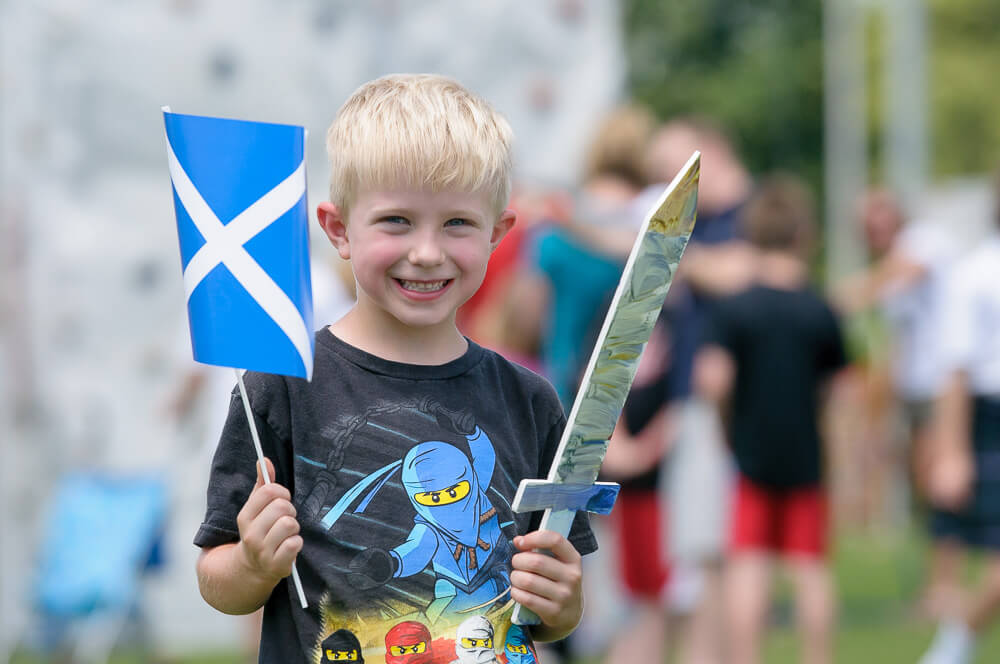 Wee Scotland!
SEE YOU MEMORIAL WEEKEND SATURDAY, May 27th – 2017!
We've created a village for our wee visitors that is simply crammed full of excitement this year. After your child enters through the Loch Nessie Gate and receives his or her passport – for collecting stamps – the excitement begins.
Wee Scotland will be graced by the presence of a flock of Scottish Woods Faeries, who are flying in (no planes necessary) from all over the country. The bairns will be enchanted by the Faeries, who will host a Faerie Tea Party and will have special areas for reading fairy tales. Your child may want his picture made with one of our Faeries, assuming a camera can capture the image!
Our own Brave Scottish Princess, along with her Queen Mother and her little brothers, are going to be fending off suitors at the Princess's Practice Archery Range.
Kings College 2016 will be very busy helping the bairns create their own "Build A Kilt" for their MacDolls and MacBears. Scottish crafts will have a new aura of fun with the Faeries on hand and will keep wee hands entertained.
The Not-So-Heavy Athletic Games will host the Wee Caber Toss, Sheep's Toss, Rubber Hatchet Throw, and Stone Carrying, followed by the Kid's Kilted Mile. The Sgurr Dearg Climbing Wall will be on hand for the venturesome kids, and we've added new attractions to the mix this year as well.
The "Robert the Bruce Misting Cave" will be available for cooling off after all the exhausting fun. Look for Shaemus, our Wee Scotland mascot, who will be sporting his kilt and herding children.
Our own Glasgow Green Stage hosted by our well renowned MC, JDew, will be hosting child-friendly bands, country dancers, fiddlers, Medieval Fighters, pipers, Royal Highland Fusiliers, Athletes, Kilts on Stilts, and well-loved characters such as Seamus the Shaggy Dog, Braveheart, and other noteworthy visitors throughout the day.  Our awards ceremony will be held on stage at 2:30 p.m. and will reward our wee athletic and art winners with well deserved medals and ribbons.
Miss and Miss Teen Greenville Scottish Games will have their own autograph/photograph tent available to meet, greet and take picture with our little bairns.  They will be joining us along with many of our other stage-worthy guests at the parade on Friday evening in downtown Greenville.  New this year is our Visit Scotland, Information and First Aid areas.