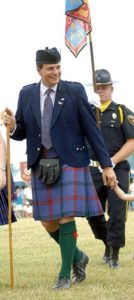 The 2018 Honorary Chief of the Games.
Lord Montgomerie is the eldest son of the Earl and Countess of Eglinton and Winton. He is heir to the Earldom of Eglinton and Winton and well as to the Hereditary Chiefship of Clan Montgomerie/y.
Lord Montgomerie was born in London and attended Eton College. Afterwards, he spent six years in the Royal Navy as an Officer of the Watch, seeing active service in UK home waters, the Far East, Hong Kong and the Mediterranean.
Upon coming ashore, he became involved in Fine Art Removals, where he worked with big London Auction Houses, moving priceless works of art around the world. At the same time, he was commissioned in the Intelligence Corps, where, as an active Territorial Officer, he held several operational posts in London, before being recalled to the Colours to serve as Intelligence Officer to Headquarters, 51 Highland Brigade, in Perth, Scotland.
In 1999, Lord Montgomerie met Carol Robinson in Edinburgh, Scotland, where she was vacationing with family. He moved to the USA and they were married in 2001. Lord and Lady Montgomerie have two daughters and a son.   They currently live in Franklin, Tennessee, where Lord Montgomerie works for the Advanced Systems Group at Dell Inc.
Lord Montgomerie currently serves as Chairman of the Scottish Society of Armigers as well as the Co-Chair of the Historic Franklin Masonic Hall Foundation. Lady Montgomerie is a genealogist and owner of Amerascot Genealogy and Consulting.