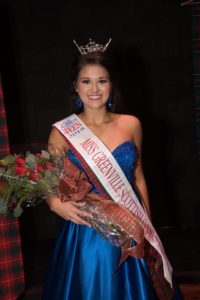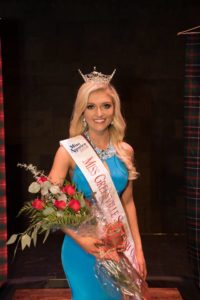 Miss Greenville Scottish Games!
On September 23, 2017, we crowned 2018 Miss Greenville Scottish Games Teen and 2018 Miss Greenville Scottish Games at the Kroc Center in Greenville. The Miss Greenville Scottish Games scholarship pageant is in its 7th year providing scholarships and the opportunity to represent the Greenville Scottish Games at the Miss SC Teen and Miss SC pageant each summer. As with all of the Games activities it takes many volunteers to make the pageant happen, and we thank everyone who has helped make the pageant as success. The pageant is facilitated by Tracy Kelly, Board Member and Jennifer Griffin.
Megan Grubbs, 2018 Miss Greenville Scottish Games Teen
Megan Grubbs is the 2018 Miss Greenville Scottish Games Teen. She is a junior at Mid-Carolina High School where she is a member of the Beta Club, the Varsity Volleyball team and is the Treasurer for Student Council. Her talent is playing the piano. Her platform is Mentoring Matters, #BeABuddy. She works daily with small groups of children at her local elementary school. She talks to them about making positive choices and encourages them to set goals for their futures.   Megan is excited about attending her first Greenville Scottish Games this year and is busy promoting her platform and the games all over the state!
Ali Bradley, 2018 Miss Greenville Scottish Games
A graduate of Oklahoma City University with her Bachelor of Fine Arts in Acting, Ali has been involved in the arts her whole life. She began dancing at the age of two and got involved with singing and acting shortly after. Ali currently teaches dance at The Academy of Lexington Youth Ballet. She is the current Miss Greenville Scottish Games and will compete for Miss South Carolina for the third time this summer. Last year Ali won the Miss America Serves award at the Miss South Carolina Pageant, was a finalist in 2016 and 2017, and won the Presidential Service Award both years. She was previously Miss Inman 2016 and Miss Fountain Inn 2017. Ali is so excited to represent the Greenville Games this year and use her title to advocate for the arts in South Carolina. Ali participated in the Games both years she competed in the Miss SC pageant and is excited to attend this year as Miss Greenville Scottish Games! To keep up with Ali, click on this link: www.alibradley.com
For more information on the Miss Greenville Scottish Games Scholarship Organization, please visit our facebook page.